Yamaha R-N303
Yamaha
$649.95
$649.95 + $0.00 (Ecofees)
Free shipping with order of $100.00 or more
Yamaha R-N303 Stereo Amplifier with Networking
Information
Features
Technical specifications
We are pushing our Hi-Fi engineering ideas to extend into this entry-class network receiver with modern day wireless connectivity and the nostalgia of vinyl with a phono input terminal. The R-N303 is the perfect blend of technology and timeless design elegance.
Simple and sophisticated design
Phono input terminals for turntables
Optical and coaxial audio inputs for TV
Two channels of 100 W high-power output (0.2% THD)
Wi-Fi®, Wireless Direct, Bluetooth® and AirPlay®
Access to your music library, Pandora®, Napster, Spotify, SiriusXM Internet Radio, TIDAL and Deezer
DSD 5.6 MHz, FLAC, WAV, AIFF 192 kHz/24-bit, Apple® Lossless 96 kHz/24-bit playback
Add audio in up to 9 additional rooms with MusicCast
Maximise Your Listening Pleasure
Hi-Fi quality for all your music
Make the Yamaha R-N303 Hi-Fi receiver the centerpiece of your audio system, and get streaming music services, music from your smart phone, network audio, and the music you listen to every day — and enjoy it even more, with superior, exceptionally musical sound. If you truly love music, this single device will open up new dimensions of listening enjoyment you never dreamed possible.
Find your favourites, discover new ones
The R-N303 is compatible with a large variety of popular streaming services, including the widespread Spotify, the up-and-coming Tidal and Deezer services, as well as Napster®, Qobuz, Juke and others — letting you enjoy all your favourite artists, discover new ones, and get music content from all over the world.
* Music service availability varies by region.
Control at your fingertip
Control. It's all in the palm of your hands — with the free MusicCast CONTROLLER app. Simply tap and flick on the intuitively designed screen, and easily operate all of your MusicCast devices, as well as the R-N303.
Advanced circuitry, powerful sound
Each unit is equipped with a high-quality / high-power amp, featuring a single push-pull and discrete configuration that delivers a maximum output of 140 watts/channel (8O). Its low-impedance design minimises the lengths of the audio signal paths, while placing the power supply unit near the amp unit eliminates energy loss, achieves superior drivability for optimum sound reproduction with all kinds of speakers, providing exceptionally dynamic, exciting sound.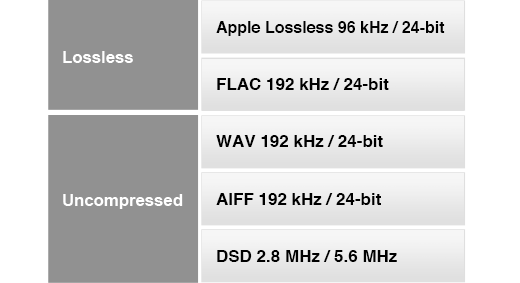 Experience high resolution
The R-N303 supports an extensive variety of high resolution audio formats. Feel the very breath of the vocals, bask in the airy atmosphere of a concert hall — and experience all of the performance as never before.
Your music everywhere
MusicCast employs a high performance wireless network to deliver music and audio enjoyment. It can stream digital music content from your smartphone, PC or NAS to other MusicCast devices in your home. It can also share the music from external devices such as a CD player or TV connected to the R-N303. Audio content from Bluetooth®-connected smartphones or tablets can also be streamed to MusicCast devices in multiple rooms.
Go wireless
The R-N303 is equipped with Bluetooth® functionality to let you enjoy easy wireless music playback from smartphones and other devices.
Hi-Fi sound for your TV
The R-N303 is equipped for digital audio input with both audio and coaxial terminals. The optical is for receiving audio from a TV and the coaxial is for receiving audio from a Blu-ray Disc™ player. The audio stays in the digital domain, giving you pure, pristine, dynamic sound for all your entertainment sources, from sports and other programmes to movies and concerts.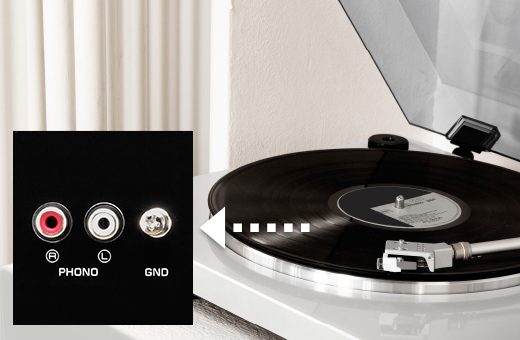 Enjoy your records, too
The comprehensive connectors of the R-N303 include special phono input terminals, letting you easily connect a turntable and enjoy music from your vinyl record collection.
 
R-N303
Receiver / Integrated Amplifier
Network section
DLNA
Version 1.5
File Format
MP3, WMA, MPEG4 AAC, WAV, FLAC, AIFF, ALAC, DSD
Wi-Fi
Yes (with Wireless Direct)
AirPlay
Yes
Bluetooth
Yes (SBC / AAC)
Minimum RMS Output Power
100 W + 100 W (8 ohms, 40 Hz-20 kHz, 0.2% THD)
Maximum Power (4 ohms, 1kHz, 0.7% THD, for Europe)
115 W + 115 W
Maximum Power(8 ohms, 1 kHz, 10% THD)
140 W + 140 W
High Dynamic Power/Channel (8/6/4/2 ohms)
125 / 150 / 165 / 180 W
Frequency Response
0 ± 0.5 dB / 0 ± 3.0 dB
Signal-to-Noise Ratio (CD)
100 dB (Input shorted, 500 mV)
Audio In / Out
6 / 1
Digital Input
Yes (Optical / Coaxial)
Phono Input
Yes
Ethernet
Yes
Headphone Out
Yes
FM 50dB Quieting Sensitivity (IHF, 1 kHz, 100% Mod., Mono)
3 µV (20.8 dBf)
FM Signal-to-Noise Ratio (Mono/Stereo)
65 dB / 64 dB
Standby Power Consumption
0.1 W (Network standby on / Wi-Fi connection; 1.8 W)
Dimensions (W x H x D)
435 x 141 x 340 mm (with antenna up: 435 x 202 x 340 mm); 17-1/8" x 5-1/2" x 13-3/8" (with antenna up: 17-1/8" x 8" x 13-3/8")
Weight
7.2 kg; 15.9 lbs.