Rotel RC 1572
Rotel
$1,399.00
$1,399.00 + $0.00 (Ecofees)
Free shipping with order of $100.00 or more
Rotel RC 1572 Preamplifier
Information
Features
Technical specifications
The RC-1572 provides an entryway into higher performing separate components with all of the analog and digital inputs required by today's sources.

AKM premium 32-bit/
768kHz Digital to Analog
Converter
iOS control App

Moving magnet phono
input for turntable connection

Bluetooth with aptX

Balanced XLR inputs
and outputs
Engineered with care.
Dimensions (W × H × D)
431 × 99 × 338mm
17" × 3.9" × 13.5"
Front Panel Height
2U / 88.1mm (3.5")
Power Requirements
120V, 60Hz
Power Consumption
35W
Standby Power Consumption
<0.5W
Net Weight
7.4kg (16lbs.)
BTU Rating
65 BTU/h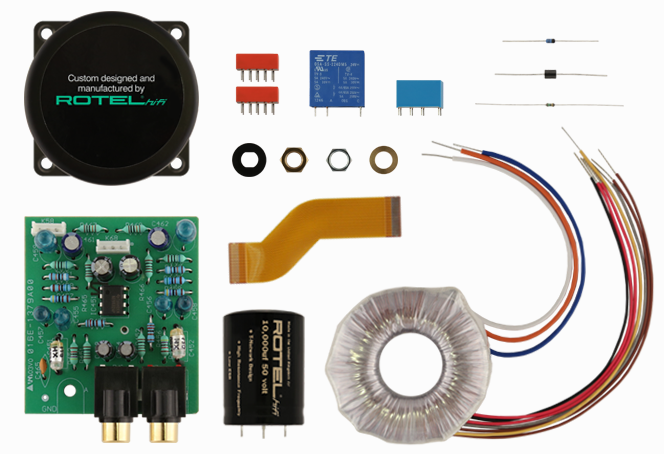 Total Harmonic Distortion (THD)
(20Hz–20kHz) <0.004%
Frequency Response

Line Level Inputs: 10Hz - 100kHz ±0.3dB
Digital Inputs: 20Hz - 20kHz ±0.5dB
Phono Input: 20Hz - 20kHz ±0.3dB
S/N Ratio (IHF "A" Weighted)

Line Level Inputs: 110dB
Digital Inputs: 100dB
Phono Input: 80dB
Intermodulation Distortion (60Hz:7kHz, 4:1)
<0.004%
Input Sensitivity
Line Level Inputs (RCA): 200mV
Line Level Inputs (XLR): 300mV
Phono Input (MM): 3mV
Input Impedance
Line Level Inputs (RCA): 100kO
Line Level Inputs (XLR): 100kO
Digital Inputs: 75O
Phono Input (MM): 47kO
Input Overload
Line Level Inputs: 4V
Phono Input: 62mV
Output Level
Unbalanced (RCA): 1V
Balanced (XLR): 2V
Tone Controls
±10dB at 100Hz / 10kHz
Coax/Optical Digital Input Signals
LPCM (Up to 24-bit/192kHz)
PC-USB
USB Audio Class 1 (up to 24/96)
USB Audio Class 2 (up to 32/384)*
*Driver Installation Required
DSD/DoP 1x, 2x